Embankment Repair in Kashimari Union after the Cyclone Amphan
Emergency Support to Infrastructure Development after Disaster
NGF is working in this area from long ago; therefore, it knows the local knowledge, local need, and way of helping the local people. Cyclone Amphan took place at the time of the COVID-19, therefore, the rescue and humanitarian assistance program was quite different than that of any other time. Many organizations that normally operate their humanitarian programs during natural disasters were not present at the time of Amphan due to the requirement of social distancing and for the health issues amid Corona virus. Because of this, the reconstruction work of embankment faced a real challenge. Even Bangladesh Army and Coast Guard faced challenges to arrange the reconstruction work as it needed couple of thousand people together due to time constrains for tide and web twice a day. This repair work required money and physical labor together.
NGF provided the support through-
Committee formation:A 5 member committee was formed that was responsible for the monitoring and reporting on the progress of repairing work of barrage.
Distribution of food to the people took shelter in the cyclone center
Providing physical labor:Staffs from head office and field office physically participated with the local people to reconstruct the barrage.
Cash Assistance: Provided BDT 2,26,000 as assistance to purchase the necessary items like rope, bamboo and snacks.
Drinking Water Support: Provided drinking water of 10,000 liter to the repair team, which is considered as very crucial support as couple of thousand volunteers required water at the time of working in the scorching hot weather. It was much more crucial than giving money to them.
Bamboo and other materials: Assisted the work by providing 850 pieces of Bamboo that were required to prevent mud being displaced from the bottom of the under-constructed barrage.
Sack: Provided 3200 sacks required for preparing the sand bags.
Arranging Hands for Work:Helped gathering people and volunteers in the repairing work.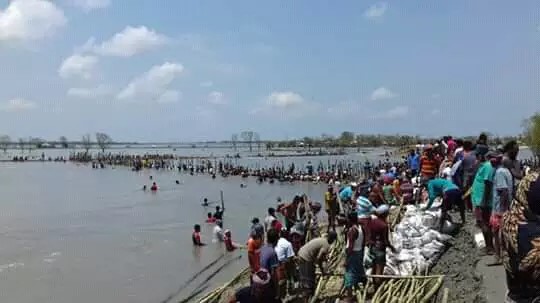 NGF staff took part in repair work