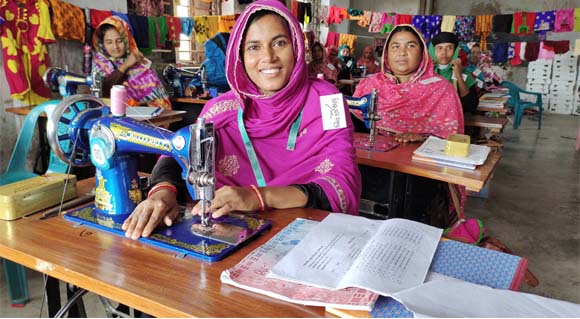 Pathways to Prosperity for Extremely Poor People (PPEPP) Project
Pathways to Prosperity for Extremely Poor People (PPEPP) Project
Background:
The project builds on the experiences of earlier successful extremely poverty reduction projects in Bangladesh [including Programmed Initiatives for Monga Eradication (PRIME), Economic Empowerment of the Poorest (EEP), Stimulating Household Improvements Resulting Economic Empowerment (SHIREE), Targeting the Ultra Poor (TUP), Microfinance support intervention for FSVGD and UP beneficiaries projects and UPP-Ujjibito project]. The PPEPP project will help extremely poor people connect with mainstream economic growth and development. In the first phase (2019-2025), PPEPP will work for sustainable development of up to 25,000 climate-vulnerable households covering 80 thousand extremely poor people.
Objectives:
To enable people to exit from extreme poverty for good;
To support the development of stronger national institutions and systems to deliver the public and private services required by extremely poor people to become resilient and prosperous.
Indicative High-Level Output:
Developed livelihoods options resilient to shocks and stresses,
Improved nutrition practices and sustainability through GoB and market systems, and
Increased awareness amongst extreme and vulnerable poor and empowered to attain their rights.
Working area:
During the piloting phase (July 2019 – March 2020) the project was implemented in Gabura union under Shyamnagar upazila. And the main phase of the project will cover 7 more unions – four under Shyamnagar upazila (Munshigonj, Padmapukur, Ramjannagar, and Koikhali), Krishnonagar union under Kaligong upazila, Anulia union under Assasuni upazila in Satkhira district and Uttar Bethkashi union under Koyra upazilla in Khunla District.
Component of the Prosperity:
Resilient Livelihood 2. Nutrition & Primary Health Care 3. Community Mobilization 4.Disability 5. Inclusion 6. Gender Equity 7.Disaster & Climate change
Livelihood Component

Name of the Activities

Unit/Number

Beneficiaries Coverages

Nutrition sensitive Activities

Livestock Activities

Broiler, Layer, Indigenous chicken, pigion, duck Rearing

510

2040

Fisheries Activities

Fish Farming in Mini Ponds

95

380

Agricultural Activities

Home Grown Vegetables (Pusti Plus Package) and seed distribution

10119

40476

Income Generating Activities

Livestock Activities

Beef Fattening, Goat Sheep Rearing, Buck service center,Turkey rearing, Broiler, Layer and duck Rearing

81

324

Fisheries Activities

High Valued Fish in tank , Mixed fish, Fish fry , dried /semi dried fermented fish , vetki/coral fish Culture

121

604

Agricultural Activities

Three Layered Home Grown Vegetables , High valu safe vegetable producgtion, salt tolerant verieties of rice, companion crop cultivation, pulse/oil production , quality vegetable and fruit seedling using cocodust

73

292

Training

Agricultural Training

Livestock Based

13

1300

Agriculture Based

10

1000

Fisheries Based

6

600

Non-Agro training

Sewing Training

1

100

Establishment of Prosperity Bari/Model Bari

3

12

Day Celebration

8

1045

Farm Day/Field Day Celebration

De-worming and Vaccination of Cattle

11544

28006
Nutrition Component
Formation of Mother and Child Forum
Nutrition status of a fetus depends on the nutrition status of a respective. In this time, inadequate food intake causes low-weight child birth, blood deficiency etc. So, in order to improve the situation the project formed "Mother and child forum" to encourage balance intake and overall nutritional status of pregnant and lactating women child boys girls.
Brief description of "Mother and child forum" funded by FCDO and EU
| | | | | | | |
| --- | --- | --- | --- | --- | --- | --- |
| Sl | Name of Forum | No. of Members | Pregnant Women | Lactating Women | Child (24-59 months) | No of Session |
| 1. | Kapatakhya | 15 | 0 | 12 | 3 | 25 |
| 2. | Simanto | 16 | 0 | 8 | 8 | 5 |
| 3. | | | | | | |
Formation of Play Zone, Breast Feeding Corner and adolescent club
Community Mobilization Component
The community mobilization component of the Prosperity project is one of the most important components. The component will work with the wider community, including the extremely poor people in the working area. Through this, steps will be taken to change the negative social norms prevailing at the family and community level towards the deprived women, girls, persons with disabilities and others. Besides, necessary steps will be taken to provide basic services to the backward people, increase their opportunities to participate in work, improve their social status and integrate them in the mainstream of the society.
Activities of Community Mobilization
| | | |
| --- | --- | --- |
| Activity Name | Numbers | Covered Beneficiaries |
| Linkage for Access to Social Safety Net services | 118 | 118 |
| Vaccination Campaign (Hum Rubella) | 11 | 120 |
| Campaign for " Vitamin A " | 11 | 230 |
| International Women Day observation | 1 | 150 |
| Building awareness for Child Marriage dowry etc | 11 | 240 |
Emergency assistance Program under Prosperity Project
A total of 339,93,000 emergency assistance has been provided to 38 extremely poor members of the Piperity Project's Piloting Union Gabura who were left helpless as a result of Covid-19. Cash assistance has been provided to 3656 ultra poor members and 121 ultra poor members through mobile banking. Each member has been provided assistance of BDT 3,000 (only BDT3,000 per month) for 3 consecutive months (BDT9,000 only).
Distribution of potable water after Cyclone mphan under Prosperity Project:
The coastal unions were inundated with salt water due to flooding caused by Cyclone Amphan and breaking of embankments. All ponds and other sources in the unions became unsuitable for drinking. As there were no tube wells in the unions, people used to drink water from ponds but cyclone 'Amphan' destroyed all water sources and caused severe shortage of drinking water. 12-15 liters of water were distributed to 2700 families in Gabura and Anulia Unions under the Prosperity Project for 2 months. A total of 9,46,000 liters of potable water were distributed in two months.