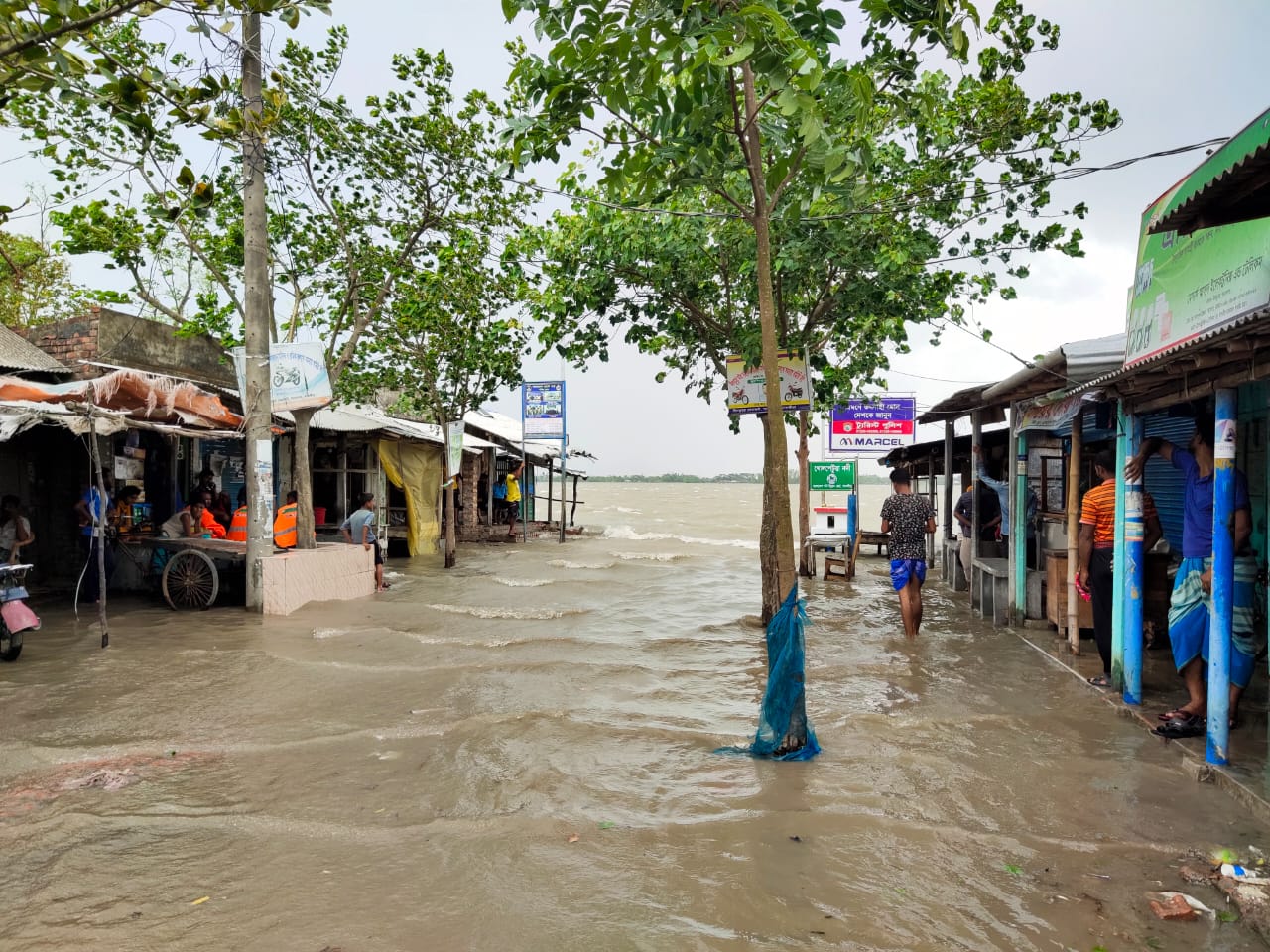 Flooded House of Gabura Union Under Shyamnagar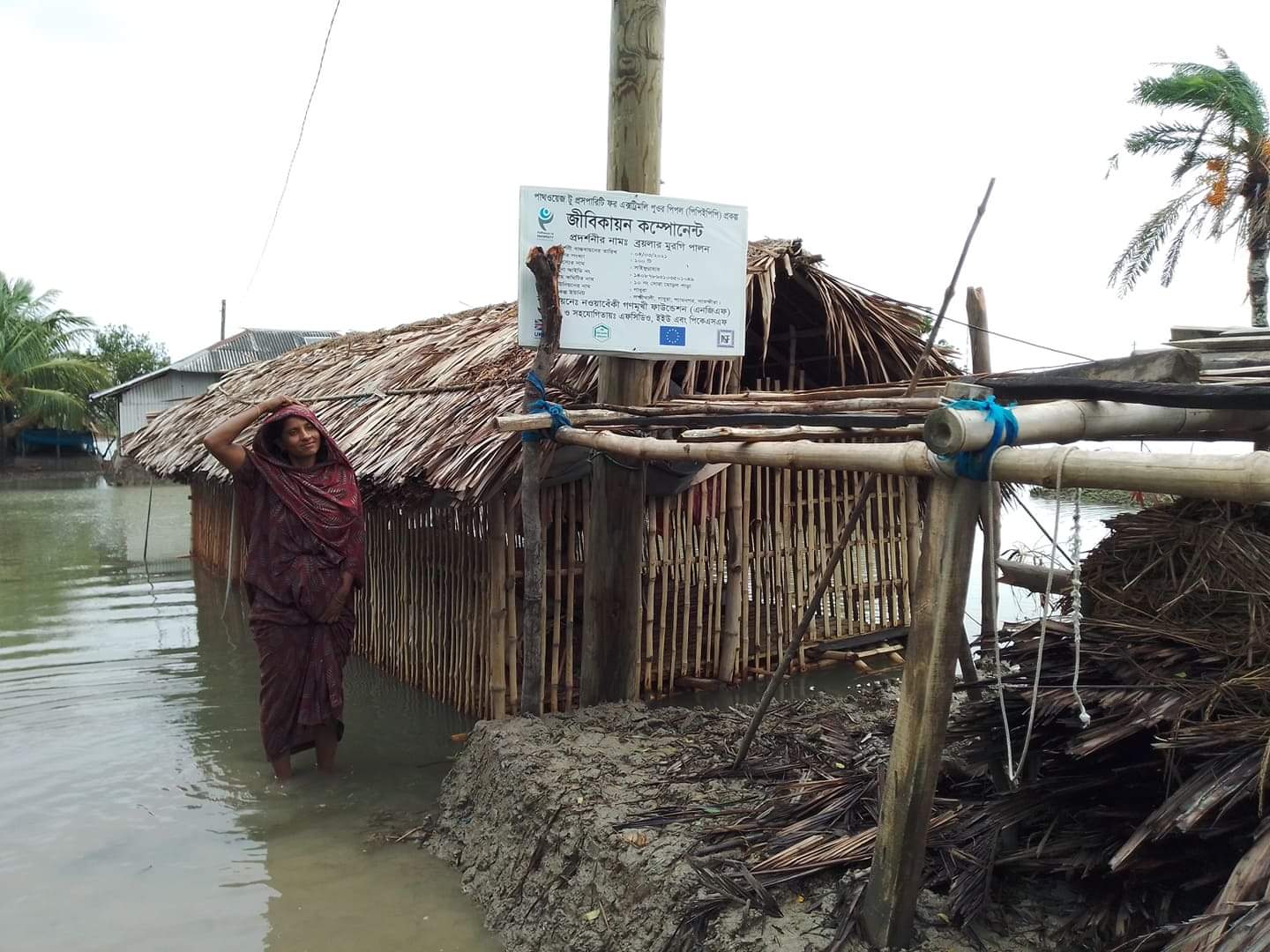 Situation of coastal Area
We all know that disaster management has three periods, Pre, During & Post. Nowabenki Gonomukhi Foundation has formed an internal disaster management team & they have been working for 3 days to collect data from Satkhira & Khulna district on pre condition and during the disaster period. Currently, 1,965,959 & 546,001 numbers of people are living in Satkhira district and Khulna district respectively.
Though the main body of the cyclone hit the West Bengal and the Odissa, Bangladesh was supposed to be less affected. However, in reality the coastal belt suffered as it does in every other cyclone. On Wednesday, due to the impact of cyclone Yaas, water flowed above the danger level in variousrivers of coastal part of Bangladesh and flooded more than hundred (100) villages of nine(9)district of Barisal, Pirojpur, Potuakhali,Bhola, jhalokhati, chittagang, coxsbazer, Khulna and stakhira district. It is reported by the daily prothom alo that 91 kilometer embankment of nine district swept away reported by the department of water development board ministry of disaster and relief management agriculture department of the respective districts. 3 has been died as per the report of yesterday ( 27 May 2021).
"It can be categorized as man-made disaster" said the UP member Swapon Gatider of Burigoalini Union. He said "It was obvious that the embankment became narrow day by day by the soil erosion and it was the administration and Water Development Board who were responsible to repair the dam but nobody seems to care about the maintenance. What was more severe was the impact of climate change and global warming that made the sea level high all around the world. As a result, the water level at the time oftide rose as high as 7 to 9 feet." The cyclone swept the fish firm, houses, cattle and poultry making huge losses to the people of the coastal belt.
Below are the overall situation of the Khulna Bagerhat Potiakhali Jhalokhati Borguna, Bhola and coxsbazer:
Khulna District
Uttar bedkashi Dakhhin Bedkashi Koya sader Moheshurpur and moharajpur of koyra Upazilla. Beside that Paikgacha Dakop Upazilla affected mostly. About 37 villages flooded by the salt water and 6000 family are now in the flooded houses.
Barguna district
Yesterday during the tide water came then 500 families living in the affected upazilas of Barguna district took shelter in different cyclone shelters. Today in the morning time they went back to their home when the tide water has gone. One embankment (20 to 25 kilometer) in Bargunaupazila is broken due to cyclone Yaas
Patuakhali district:
Kalapara and Rangbalia Upazillas 223 villages become waterlogged, 3 kilometer dam washed away whereas 41 kilometer embankment were partly damaged. About to 1500 fish farm worth of BDT 300 million were damaged.
Current Situation at the Most Affected Areas
Name of the Upazila

Name of Union

Number of place (Embankment)breakdown

Name of affected Villages

Number of affected villages

Number of the affected people/ Family

Number of damaged Houses/ flooded houses

Value of damaged Houses

(in ,000)

Number of the cattle loss

Value of the cattle

(in ,000)

Number of the poultry loss

Value of the Poultry

(in ,000)

Total acre of fish firm flooded away

Total value of the fish firm

(in ,000)

Acre of cropland damaged

Value of the crop damaged

(in ,000)

Shyamnagar

Shyamnagar

Kaikhali

3

Mamundipara,Joyakhali,Boshkhali, Jadoppur,Koikhali

5

5,000

300

60,000

700

21,000

5,000

1,750

150

15,000

150

3,000

Vetkhali

Golakhali,Kalinchi

1

320

156

31,200

200

6,000

1,000

350

50

5,000

10

200

Burigoalini

2

Datinakhali,Porakatla,Kolbari,Nildumur,Durgabati

5

3,000

900

180,000

300

9,000

4,000

1,400

700

70,000

10

200

Nurnagar

2

Durmojkhali, Paranpur

2

7,000

800

160,000

1,200

24,000

10,000

3,500

400

400,000

20

400

Padmapukur

4

PashimPatakhali, Bunotala, Kamalkhati

4

3,500

250

50,000

260

5,200

1,000

350

500

500,000

65

1,300

Gabura

2 (partial 20 spots)

Gabura, lebubunia, Napitkhali, Gagramari,Parshimari, Chandnimukha, Jelekhali, Barogabura, Kholishabunia, 10 No Sora, laxmikhali

11

1500

500

25000 (2.5 Cr)

300

6000

700

250

550

450,000 (45 Cr)

10

500 (5 lak)

Ashasuni

Protapnagar

2

Horishkhali,Nakna, Kalyanpur, Motherbaria, Protapnagar, Kurikoania, Bonyotola, Shreepur, Sonatankathi, Bokulnagar, Shreesa, Laskunikhajra, Anulia, Modhyaeksara, Dokkhineksora, Nangla, Razapur, Monipur, Volanathpur, Khajra union, Chardanha, Godaipur

22

13218

10850

182000 (18.2 Cr)

4350

1305 (1305000)

20000

6000 (60 Lak)

4054

52,000 (5 Cr 20 lak)

54

2420 (2420000)

AshasuniSadar

1

Harivanga, Kadmdha, Durgapur, asasuni, Manikhali, Doyarghat, Chapra, Peyargati, Jamalnagar, Dumurpota, Bowndanga, Goaldanga, Champakhali

13

600

150

7500 (75lak)

250

5,000 (50lak)

8,000

2,800

3000

900000 (90 Cr)

30

500 (5 lak)

Kaligang

Mothureshpur

1

Bosontopur, Nazimgang, Khahat, Simla, Sitalpur

6

6,000

1,500

300,000

500

20,000

20,000

7,000

800

80,000

25

500

Varashimla

1

Narayanpur

1

500

200

100,000

350

7,000

7,000

2,450

200

20,000

22

440

Koyra

Uttar Bedkashi

6

Gatirgeri

3

2,000

550

275,000

150

3,000

2,000

700

350

35,000

-

-

DakkinBedkashi

1

Angtihara, Kashitana

2

2,000

200

100,000

200

6,000

3,000

1,050

600

60,000

-

-

Total

25

75

44,638

16,356

1,470,700

4,370

8,760

81,700

21,600

11354

2,587,000

396

9,460